LOVE KNOT was one of the earliest of my Symbolic Sculptures.
I had done a figurative sculpture of an embracing couple, entitled `AWAKENING', in which I had tried to capture the first moments of the tender love of youth. I wanted to try and do the same thing with a Symbol.
I cut the section of the sculpture from a hollow cone, cast two and then mounted them to face each other. I see the image not only as a tender kiss, but as the arms of the lovers forming a knot that will tie them together for life, as a couple, the foundation of a family.
I have found that when I cut a shape from a geometric body like a cone, an ovoid, or a sphere, the balance of the whole form is carried into the section.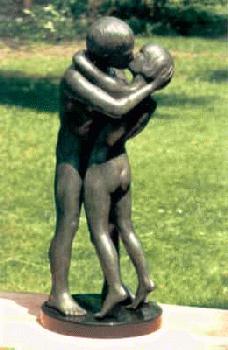 AWAKENING, Newman Collection, Seattle, USA